It's the new rage:
eliminating waste
in health care:
Nine medical specialty societies are joining with the American Board of Internal Medicine Foundation and Consumer Reports to curtail waste in health care and improve patient outcomes.

As much as 30% of U.S. health care is squandered on unnecessary tests, procedures, hospital stays and other services, according to the Congressional Budget Office. Such services don't benefit patients, and in some cases may harm them.
Specialty societies are joining forces to stamp out medical waste in all its forms, even resorting to
petitioning their members
to come up with ideas to save money.
Honestly, this should have been done long ago and should remain an ongoing priority.
But I'm going to stick my neck out and mention an area that no one ever discusses. It's an area of waste so vast that it would dwarf all of the recommendations that are likely to come any or all of these surveys. It's an area of waste that plagues every hospital, long-term care facility, rehab facility, or nursing home in our country, yet benefits every device manufacturer and supplier to our health care system.
What is it?
Medical supply planned obsolescence.
What do I mean by this? I mean the waste generated every day in our health care system by
expired medical goods
.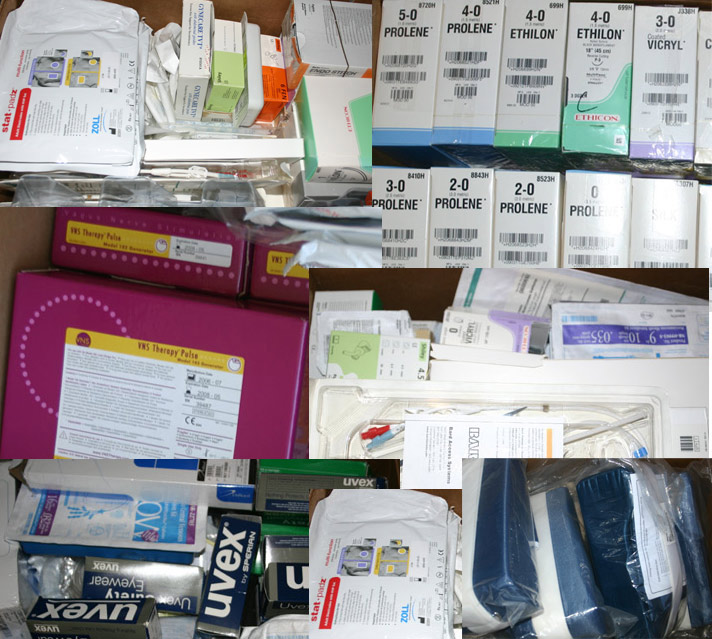 A Sampling of Expired Medical Supplies (click to enlarge)
Every day, week and month in our health care system, thousands of pieces of perfectly good medical equipment "expire." That is, their expiration date - similar to the expiration date noted on foods you eat in the grocery store - comes past due. At that instant, they can no longer be used by patients and become worthless items that must be removed from shelves, discarded, or donated. Companies will not take them back or exchange them. Re-use in America is banned. Thanks to the World Health Organization, even donations of expired goods to developing countries are banned because of their core principles regarding guidelines of medical supplies that
states
"there should be no double standard in quality: if the quality of an item is unacceptable in the donor country, it is also unacceptable as a donation." Such donations are even frowned upon by many veterinary clinics.
Never mind if they are non-sterilized plastic jars. If they have an expiration date that is past due, they are discarded. If they are expired shiny, new metal or plastic medical instruments that could easily be re-sterilized (think laparoscopic staplers, attachments and the like), they are discarded. Double-wrapped IV fluids? Sutures? Drape kits? Gloves? These too are discarded. You see, you can never be too safe.
In fact, expired medical equipment
fills many landfills
(a must-see video) both here and overseas.
Certainly there are concerns about sterility and the decomposition of medications and materials that occurs with time. No one wants to accept the liability that expired medical goods could have been the cause of illness or infection. This is certainly appropriate.
But how many thousands of pounds of medical goods are discarded each quarter from our nation's hospitals that could be re-purposed, re-sterilized, re-packaged to give us HUGE cost savings to our health care system? Could expiration dates be extended safely without compromising quality?
No. One. Knows.
Why?
Because there's no incentive to do so and it's not in the economic interest of the suppliers to find out.
But given the millions (and probably
billions
) of dollars wasted on expired medical equipment each year, isn't it about time we do? Even if we can only extend the purposeful shelf life of supplies from five years to six, we likely could save hundreds of millions of dollars (or more) for our health care system.
And who knows, maybe we'll do something good for our planet along the way.
-Wes