If you are reading this, do not forward this to colleagues. Do not forward on to your state medical association. Do not demand relevant discussion of this at your next professional meeting. We are good boys and girls, dear doctor, not activists -- leave that to the lawyers and lobbyists.
I think I'm seeing something, something I haven't seen or felt before in medicine: doctors awakening from our own torpor.
The fuel for the fire has been there for some time: cumbersome (and even dangerous) electronic medical records, excessive bureaucratic mandates, subtle social re-engineering of patient care by guideline and charting directives, meaningless "meaningful use" criteria, an overabundance of administrators and regulators, loss of autonomy, meeting after meeting that lead to nowhere, constant insurance payment denials for procedures that are standards of care, declining patient access to care, cuts to income, and perhaps worst of all, our own
peer Inquisitors
turning against their own. Until now, doctors have (for the most part) kept their chins up, they held their tongues. They hoped for beneficial change.
But there's a movement afoot. Slow. Purposeful. Effective.
Doctors are re-taking medicine.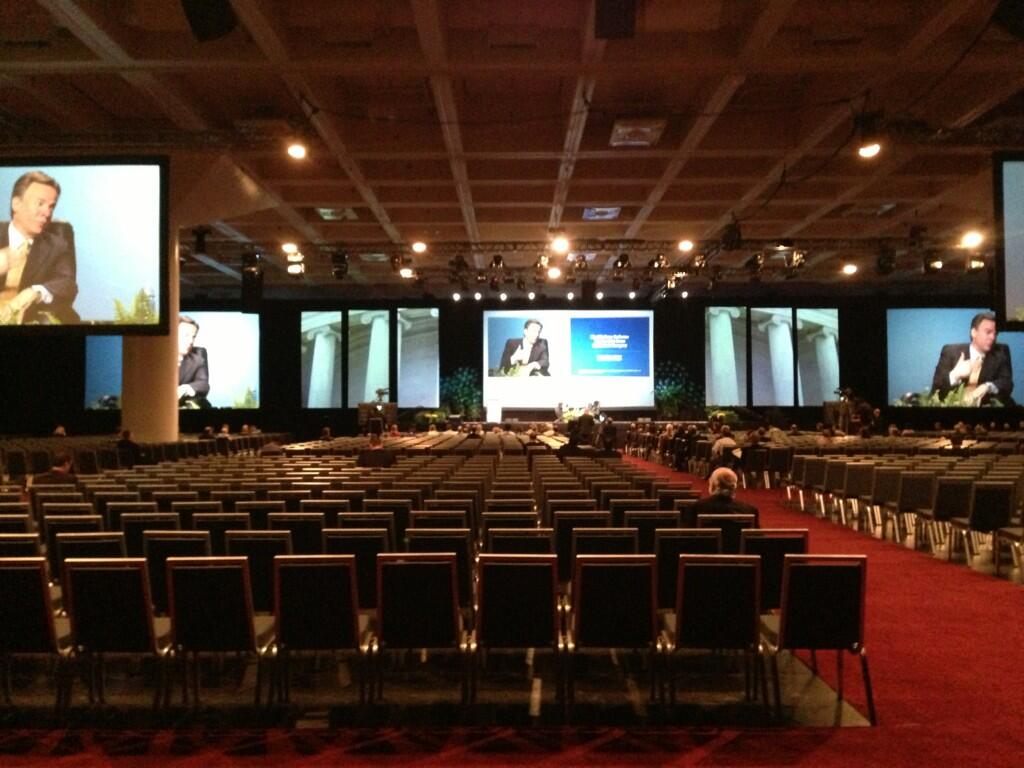 Ophthalmologists walked out of a session on the
Affordable Care Act Sunday during a national conference
held in San Francisco (via @kksheld)
The confluence of negative forces described above have coalesced to bring this on. It's not one thing but many. And the signs are everywhere. Ophthalmologists are
walking out
on speakers discussing how to "implement and comply" with the Affordable Care Act. Other groups of doctors are
suing
the physician medical board re-certification establishment on the basis of the
Sherman Anti-trust Act
. Doctors are
donating money
to advocate for themselves. Doctors are realizing, thanks in part to the speed and transparency of social media, that they have a voice in the healthcare debate. They're mobilizing. And it's not just specialists, but generalists, too.
It remains to be seen what comes of all of this, but make no mistake, the sleeping giant is stirring and it's scaring the hell out of the establishment.
The question is, who will you be, doctor? Is your profession worth preserving? Will you be the one who looks down at your feet, the dissembler as the troops march past? Will you just hope your bills get paid or will you take a stand? Will you mobilize others or will you be invisible? Will fear dominate or will leadership? Will you be the last one to look up?
This is our hour, our test of character.
It's happening.
-Wes