If you want to sell a new drug or therapy in America, you must perform a prospective, randomized clinical trial to prove its safety and efficacy. Further, if that trial does not reach one or more pre-specified clinical endpoints, you can't advertise or publish the trends found.
But if you want to limit costs in medicine, it seems the government is
intent
on looking the other way:
At stake in the Harkonen case is a much broader debate over the standard for drawing clinical conclusions from scientific data. FDA typically requires two forward-looking or prospective trials, in which patients are randomly picked to get either an experimental drug or a placebo. That might be an appropriate standard for FDA approval, but it's an excessive burden for private firms that merely want to share their truthful research conclusions with doctors. The restrictions may also violate the First Amendment; Dr. Harkonen is appealing on those grounds to the Ninth Circuit.

At the same time government is limiting what private companies can legally communicate about their drugs, it has set a much lower standard for federal health agencies. President Obama has created new institutions with the sole mandate of running trials based on softer statistical standards. Retrospective studies will be the core occupation of a new "comparative effectiveness" research agency that has $4.1 billion to conduct government studies on medical products. The results will be used to inform federal treatment guidelines, as well as Medicare's payment policies.

At least $100 million of that $4.1 billion is being spent on promoting research results. The Agency for Healthcare Research and Quality recently paid $26 million to the PR firm Ogilvy to "market and promote the adoption" of the findings.
And it doesn't stop there.
Our clinical treatment "guidelines," now number some 2,766 for physical and psychiatric treatments according to the government's "
Guideline Clearing House
" (even, ironically, one for "
Wandering
"). These prescripts for care use a cornucopia of non-scientific methods, including opinions and case studies to formulate their recommendations, stating:
"Research findings and other evidence, such as guidelines and standards from professional organizations, case reports, and expert opinion were critiqued, analyzed, and used as supporting evidence."
So when scientific rigor is given only lip-service by our government regulators, what will happen to the quality of care provided to our patients?
Maybe government recommendations should come with a food-label like disclaimer: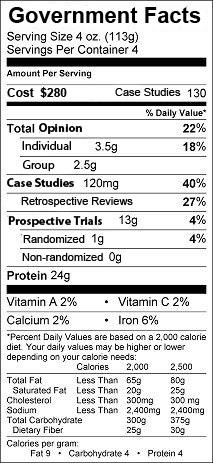 -Wes