I woke early to review my notes; who was attending the gathering that day, the itinerary, the location. Suit, tie, briefcase, cell phone, charger. Check.
Soon I stood in line with familiar faces at the Rayburn building waiting to pass through security, remembering my wife's comments about the DMV. "Bags on the conveyor, folks. Jackets, too. Sir, you can leave your suit coat on." Of course. What was I thinking? What about my coffee cup? Passing the bag check, the halls widened. Shiny grey linoleum, fluorescent lights, just as promised. Just like the Hart and Dirksen buildings.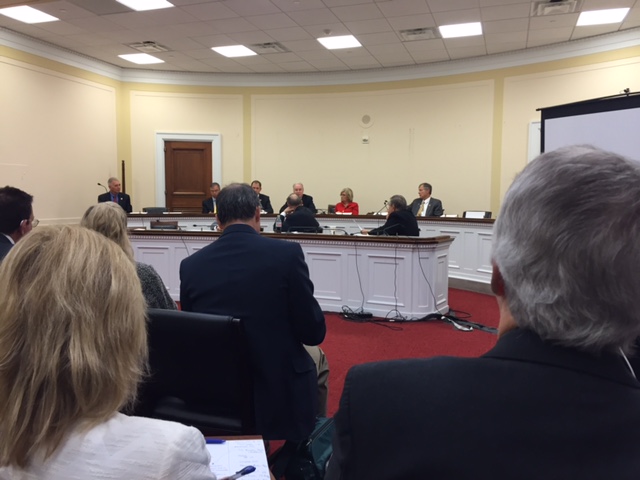 We made our way upstairs to the Judiciary Hearing Room, Room 2226. An early-morning confab of the members of the
GOP Doctors Caucus
was in the hearing room, discussions underway. Microphones on. All of us listening. Real issues, real bills, sausage making at its finest. An urgency to their voice. Meaningful Use Part III. Crazy. Not ready. What can we do? Can we kill it? No? Push for a delay. H.R. 2603/S.1475: "The Saving Lives, Saving Costs Act" to permit safe harbor for physicians who follow guidelines. Add this, what do you think of that? Need to get things done by the 11th of December. A real-life physician-politician show and tell. Then when things concluded, the brief pitch: physician ranks were getting thin. You're needed. (It was not a younger crowd.) Then, off to more meetings before the debt ceiling vote. Got to go. Cynically to me it looked more like doctors were being taste-tested for the menu rather than really being at the table.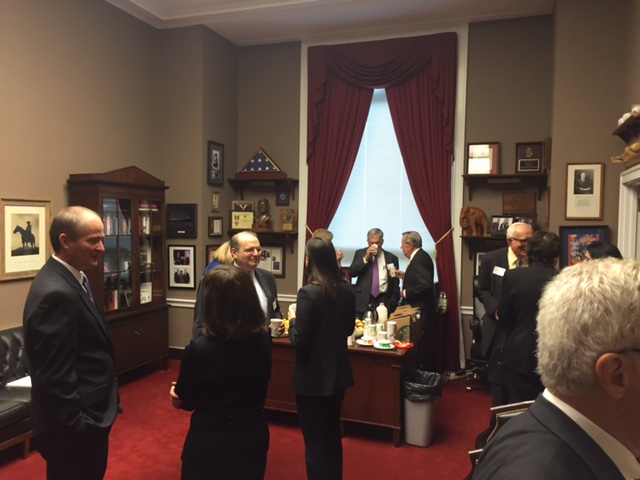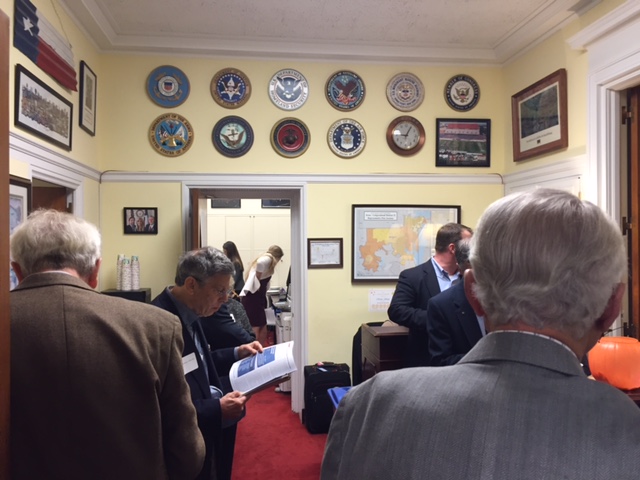 But then a break for coffee and continental breakfast in Representative Sessions' office across the hall. Nice office, four-room suite. Spacious, with lots of Texas memorabilia on the wall. More time to mingle, connect. So many people to meet, so little time. People circulating for a quick photo shoot with the Congressman. Graciously he invited all to pose. "Off with the name tag," he'd prompt. "Now, this is a good place to stand." Then a photo: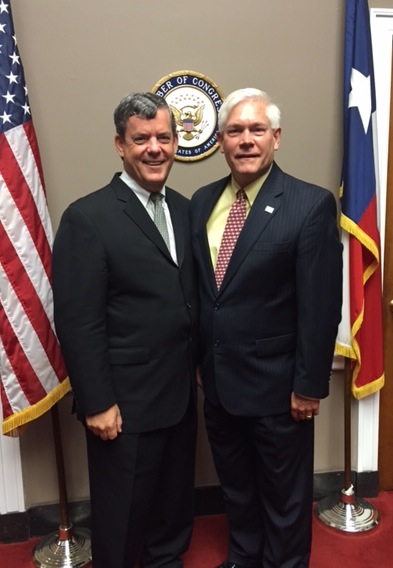 It was fun. A very polite way to say "thanks for coming." Reminded me of my Navy days, just more casual. Then he was on to the next attendee. On and on, until most people that wanted to have a chance for a photo did so.
Then the main event.
We shuffled back to the Judiciary Room. Congressman Sessions made some introductory remarks. Very likable guy. Top salesman for AT&T for years, he said. He could sell anything to anyone, he boasted while smiling. Admitted the didn't know a thing about being a doctor, but seemed well-informed on many of the issues doctors face and that our patients are facing right now: high deductibles, co-pays, co-insurance, especially for those just above the poverty brackets. You could see why people like him on the Hill. He explained be was working on a bill. Obamacare is going to collapse - too expensive, he said. Maybe it was designed that way. Not touching Obamacare or Medicare, just an alternative for Medicaid. Hasn't been filed yet. Preliminary, getting ideas. He realized more work is needed. He turned things over to this his legislative aide to explain. Wanted our input, ideas.
A doctor focus group of sorts...
The idea seemed realistic, not far-fetched. Practical option that sounded like a way to make health care sustainable for everyone, with much less gaming of the system. But was it going to be understandable? For some, maybe. For others, it would take some education. Eleven key points, detailed, spelled out with examples. But I was interested that most doctors in attendance were independents or retired. There were few employed physicians there like me. After the seventh point in the midst of the explanation, a break. We rose and stretched, I approached the Congressman with a thought.
"Representative Sessions?"
"Yes?"
"Wes Fisher from Chicago, sir, interesting plan - very innovative alternative - like the concept - but I wondered if you were aware..." and bent his ear very briefly during our break....
"Are you kidding me? John, get over here." He waved to trusted orthopedic physician-colleague from his home state. "Have you heard about this?"
John listened. "Not nearly as big a problem for orthopedists," he told him, but he'd heard something about it...
"Give me your cell phone...", Congressman Sessions said.
"Excuse me?"
"Give me your cell phone so I can put my contact information there. Here's mine. Enter your contact information into mine."
Surprised by his response, I fumbled to enter my contact information.
"Send me the details."