One by one, Internal Medicine subspecialties are fleeing the sinking American Board of Internal Medicine (ABIM) Maintenance of Certification® ship and creating new, non-punitive learning pathways in lieu of "recertification."
Especially important in this proposal is the
permanent
rejection of the need for additional "Performance Improvement" and "Patient Voice" modules AND the
rejection of the high stakes secure examination after initial certification
.
Here's why.
Here are the gastroenterology ABIM Maintenance of Certification secure examination first-time pass rate results for the past 15 years: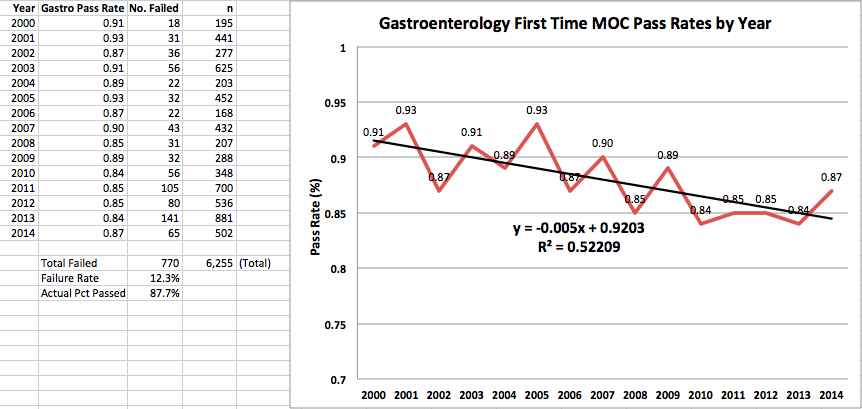 (Click to enlarge)
Note the linear regression line of the published first-time pass rates of the ABIM gastroenterology Maintenance of Certification® secure examination has declined steadily by a remarkable 0.5% per year since 2000. The pass rate also changes year to year, suggesting a lack of precision of this testing metric. As more and more gastroenterologists have had to participate in MOC®, this declining pass rate of the secure examination results in a progressively higher number of gastroenterologists that must take time away from caring for patients to retake their MOC® secure examination (and pay for more review courses) to ultimately pass. Yet there are simply
no data
that taking the MOC® secure examination after a gastroenterologist has practiced a minimum of six years makes them a better or safer gastroenterologist. More importantly, because participation of the American Board of Medical Specialties' (ABMS) MOC® program is increasingly tied to a physician's hospital credentials (likely thanks to the fact that the ABMS and the American Hospital Association are both member boards of the
ACGME
), clinical gastroenterologists now realize they could lose their ability to practice in a hospital setting without cause if they fail this unproven secure examination metric (see
this reference
).
Look for other medical and surgical subspecialty organizations to quickly follow suit.
The ABMS's lucrative continuing medical education monopoly over practicing physicians will slowly but surely come to an end.
The next question will be: how will this new paradigm affect the
new CMS physician payment scheme
?
-Wes